BIBLICAL ASTROLOGY

Roy Rogers
Biography
Birth Chart
Dale Evans Birth Chart
Conclusion
Birth Chart Planets
Biography
Leonard Frank Sly (Roy Rogers) was born in Cincinnati, Ohio on November 5, 1911, Day 309, where the numbers mean: 11th month - a witness, 5 - a giant, 1911 - a witness (11), and 309 - the Plagues of Egypt (9). Ohio is in the region of Virgo and Naphtali, the doe and symbol of peace. His parents were Andrew and Mattie Sly of 412 E. 2nd Street. His dad worked as a skilled shoemaker at the US Shoe Company. He had also worked as an acrobat and as an entertainer on a showboat. His mother was crippled from polio. His father built a houseboat and on July 12, 1912, moved the family up the Ohio River to Portsmouth. On March 26, 1913, Portsmouth had severe flooding for 13 days. The houseboat was taken through the streets to rescue people. The houseboat served as the family home until the father built a house just before Roy's eighth birthday.

Roy's father bought some property near Duck Run, Ohio (population 14) about 12 miles north of Portsmouth and built a house. Unable to make enough by farming, Roy's father went to work in a shoe factory in Portsmouth. Since he only returned on the weekends, Roy was left to run the farm with his sisters and lame mother. His father bought Roy a horse, and Roy learned to ride bareback. The horse was his primary means of transportation. By age 12 he had learned to play the guitar and yodel and he began calling square dances. He was popular singing cowboy songs.

The family moved back to Cincinnati when Roy was 17. He quit high school to work in the shoe factory with his father and went to night school for a while, but then dropped out before finishing high school. In 1930, when Roy was 18, the family moved to California where Roy's sister lived. Roy and his father drove Model T dump trucks. Then they worked picking peaches. Roy and his father played guitar and sang at night around the campfires to entertain the other workers. In August 1931, after appearing on a radio talent show, Roy joined the Rocky Mountaineers country music group.

In 1932, Roy met Lucille Ascolese in Long Beach, California. They were married on May 8, 1933 in Santa Ana, California when he was 21 and she was 19. They were separated by August 1934 as she grew tired of being a musician's wife. Their divorce was final on June 8, 1936.

In the summer of 1933, Roy was on a tour with The O-Bar-O Cowboys group in Roswell, New Mexico when he sang a special request from Arline Wilkins. Later, she and her mother brought Roy two lemon pies. Roy married Arline in Roswell, New Mexico on June 11, 1936. They changed their names to Roy and Grace Arline Rogers in 1942. After returning to Los Angeles in September 1933, Roy formed the Pioneer Trio (later called The Sons of the Pioneers) with Tim Spencer and Bob Nolan, with whom he had worked with the Rocky Mountaineers. They were hired by local radio station KFWB for $35 per week. Their theme song was Bob Nolan's "Tumbling Tumbleweeds." Soon the Sons of the Pioneers were appearing in Hollywood movies.

During World War II, Roy's draft status was 3-A, deferred due to family hardship. However, he worked to sell war bonds and sold more than any other Hollywood celebrity. He sold more than a million dollars worth of war bonds during the War. He also dedicated his time to entertaining the troops. In 1943, he was the number one money-making western star. Dale Evans met Roy in 1943 when she was appearing on a USO tour at Edwards Air Force Base, California. In 1944, she was cast as Roy's leading lady in "The Cowboy and The Senorita."

Dale divorced her husband, Robert Dale Butts on November 13, 1945. Roy's wife Airline died six days after the birth of their son, "Dusty," from an embolism on November 3, 1946. Roy patterned his whole life after his screen character. That included marrying his leading lady. When Roy and Dale were astride their horses in the chutes at Chicago Stadium about to emerge for their rodeo performance, Roy proposed to Dale. They were married on New Year's Eve 1947 at the Flying L Ranch in Oklahoma, a year after the death of Roy's wife, Airline. Because of a blizzard, they were snowbound at the ranch for two weeks.

Christian Testimony

Dale was a believer when she married Roy, who was an unbeliever. According to the Bible, she should never have married him, but she only used the Bible for emergencies. Shortly after Roy and Dale were married, Dale faced a crisis in her life, which was probably knocking at the door discipline (Rev 3:20). She faced a crisis of acceptance from Roy's children, who were rejecting her as their new mom. And she was told by Republic Studios that she could no longer appear with Roy in films because she was married to him. She had accepted Christ as her Savior when she was 10, but had not submitted to His authority to live the Christian life. Every time she faced a major crisis in life, she would turn to God but fail to carry through afterward.

When Dale told her adult son, Tom, about her problems with the children, he suggested that she bring them to church. She took them with her to church Sunday. The sermon was "The House That Is Built on the Rock." The message spoke to Dale's heart, and Tom asked her to go down for the altar call, but she refused in order to take more time to think it over, since she was already a Christian. When she returned home, Roy was off on a hunting trip. That night while she was alone, the pressure built until she bowed the knee to God, confessed all of her sins, and submitted to His will. She asked to be changed, and promised God that if He would let her live until next Sunday, she would walk down the aisle. The next Sunday she went forward and rededicated her life to Christ.

Roy noticed the difference in Dale and asked her what had happened. She told him that she had rededicated her life to Christ. Roy had never personally believed in Jesus Christ. She didn't pressure him, but she set an example. After taking the children to church, they began to pray and sing hymns together and they took turns saying grace. The girls noticed that Roy didn't say grace, and Linda, age 6, asked him why he didn't. She asked, "Don't you know how to talk to God, Daddy?" Roy had become the odd man out in his own family. God the Holy Spirit was putting the pressure on Him to make a decision.

One night at a party in the home for Roy's movie crew, some of the women noticed a change in Dale and asked her about it. As she said that she had new responsibilities, Roy walked in and heard half the sentence and jumped to the conclusion that she was complaining about how late the party was running. Roy told her bluntly, "If you have a problem this is no place to talk about it!"6 She was hurt and later cried when she was alone in her room. Roy was full of guilt and felt that he had stained their relationship. That night Roy decided to accept Christ as his Savior. He said later,
I stood looking out our bedroom window after an incident at a party we had given that had strained our relationship. I thought about my responsibilities to my family, and it occurred to me that any financial provisions I might be able to leave for my children would someday be gone. The fame of being a movie star wouldn't last forever. I want the kids to remember me for something special, something that matters. I want them to remember me as a daddy who took them to church on Sundays and helped them learn how to live a good Christian life.

The next morning as Dale was preparing to take the children to Sunday school and church, I came downstairs and informed her, "If you are going to church, I am going with you."

As we sat in the service, I bowed my head for a long time, thinking about the decision I should make. At the invitation I sat up and turned to Dale. "Mama, I'm going down there." I did go, accepting Jesus Christ as my Savior.1,6
Roy and his daughter Cheryl were baptized the next Sunday, which was Palm Sunday, March 21, 1948.

Birth of Robin

Roy and Dale had a daughter, Robin, born on August 26, 1950, but because Dale was Rh negative and Roy was Rh positive, the child was born very weak and with health problems including Down Syndrome and a congenital heart defect. In April 1951, because of Robin's health, Roy and Dale moved to Encino in the San Fernando Valley at 5330 Amestoy Avenue. Roy and Dale were confirmed at the St. Nicholas Episcopal Church. Robin died on August 24, 1952. After the death of Robin, Roy and Dale decided to adopt children rather than have any more.

Films and Business

Roy Rogers and his wife, Dale Evans, were featured in over a hundred movies and in the Roy Rogers Show on radio and then television from 1951-1957. Roy was billed as "King of the Cowboys" and Dale as "Queen of the West." They had a loyal following of 1.75 million boys and girls registered in their fan club in 1953. Due to the success of the television show, 47 manufacturers made over 360 types of Roy Rogers merchandise, and 2 million comic books and records were sold. Roy was a big-name business tycoon, who was second only to Walt Disney in sales and licensing.6

In 1954, Roy and Dale appeared with Billy Graham in his United Kingdom crusade and caught pneumonia.

Death

Roy Rogers died of congestive heart failure on July 6, 1998 at the age of 86 at his home in Apple Valley near Victorville, California. The number, 6, is for a man stripped of his power and standing before the footstool of the conquering king. The number, 98, means the glory has departed, and 86 is for the Arab persecution of the Jew, which related to the Israeli-Palestinian peace process.

Dale Evans died on February 7, 2001 at age 88 of congestive heart failure at her home in Apple Valley. She was confined to a wheel chair from a stroke in 1996, which was four years after she almost died of a heart attack. The numbers associated with her death mean: 7 - categorical punishment; Day 38 - dying in the wilderness; 2001 - unity, love (1); and 88 - blessing.
Birth Chart
The Birth Chart of Roy Rogers contains a Castle and a Plow. A Castle symbolizes the domain of an established king or noble, who has great power, with support from loyal subjects, citizens, or, in Roy's case, fans. It symbolizes the home of a tycoon. The Castle was the home of Roy Rogers, the King of Cowboys.

A Plow is a sign of intensive suffering, like a person being plowed under. The Plow in Roy's Chart points to the Moon in Aries, which symbolizes a wife. Roy's first marriage lasted only a year before they were separated and his wife divorced him. His second wife died after the birth of his son and left him a widower. And his third marriage to Dale Evans brought suffering from the death of three of their 9 children.

The Sun Sign was Libra, which symbolizes a magnate. Roy Rogers was a powerful box office celebrity, who brought fame and fortune. Also in Libra were two planets in conjunction with Midheaven, which added even more glory and power to the influence of the sign. The influence of Libra corresponds to Roy Roger's title as the King of Cowboys.

The Ascendant Sign was Capricornus with the Mediator Planet on the Ascendant to symbolize a cowboy. The Ascendant Sign reveals how a person appears to the world and how he perceives himself in relation to the world. In Roy's case, this was especially true, since he was a cowboy on and off the screen. He even married his leading lady.

Sun Sign Libra

The Sun Sign is the best overall indicator of a person. Roy's Sun Sign was Libra, for a magnate who was King of Cowboys at the box office. Midheaven was nearby in conjunction with the Savior and Almighty God Planets. The Savior in Libra symbolizes a musician. Roy was recognized as a good singer of country music and was inducted into the Hall of Fame. The Almighty God in Libra symbolizes a tycoon. Roy Rogers' merchandise was big business.

Moon Sign

The Moon Sign was Aries, for a wife. However, the Moon was at the point of a Plow, which symbolizes intensive suffering associated with the wife. Roy's first wife separated from him soon after the marriage, and then divorced him. His second wife died after the birth of his son. And although his third wife was also a Libra and very compatible with him, she brought additional suffering as well as blessing. She had three planets in Scorpius, which brought the influence of the evil one into Roy's life. While he was married to her, three of his children died.

Castle

A Castle is the domain of a king or noble with a following of loyal subjects, which in Roy's case, was his fans. The Castle symbolized Roy's vast empire as King of the Cowboys and business tycoon. The planets at the points of the Castle were:
Morning Star in Virgo - son of light, or a star. Roy was a star, who became a believer.
Savior and Almighty God in Libra - musician and business tycoon.
Mediator in Capricornus - a cowboy.
God of the Covenants in Aries - a leader. Roy was unquestionably a leader. He put together the Sons of the Pioneers, who made it into the movies.
Redeemer in Cancer - a foster home, which is a description of Roy's home with all his adopted children.
The Plow
The Plow symbolizes intense suffering. A Plow directs the opposition of two planets into a third. The planets in opposition in Roy's Chart are the Mediator in Capricornus, for a cowboy, and the Redeemer in Cancer, for a foster home. The opposition of the two was translated into the Moon in Aries, for a wife in relation to her husband. This symbolizes Roy's suffering related to his three wives. Even his third wife, Dale Evans, brought suffering into Roy's life, although she also led him to the Lord and brought blessing. Even though they were very compatible, it does not appear, after considering all things, that she was his Right Woman. His Moon Sign of Aries does not appear to match her in any way other than her headstrong attitude in her earlier days. Her Moon Sign of Gemini, however, does match meeting him at Edwards Air Force Base in California.
Dale Evans Birth Chart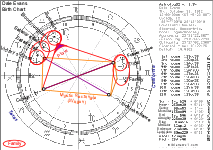 The Birth Chart of Dale Evans contains a Mystic Rectangle (Wagon) and a Plow. The Wagon is a symbol of a wife and Right Woman. She was the famous wife of Roy Rogers. The Wagon points to the Last Adam in Gemini, for a family. The Wagon was for carrying her large family of children, which she and Roy adopted. It is also symbolic of their theme song, "Happy Trails." The Mystic Rectangle symbolizes the balance of two pairs of opposition and symbolizes the operational stability required to navigate the storms and rapids of life. Although the Plow is slightly out of tolerance, it is close enough to have influence associated with intense suffering. The Plow points to the conjunction of the Red Planet and the Sun in Libra.

The Sun Sign is Libra, for business. Dale was involved in the entertainment business. She was originally a singer and dancer, which are associated with the power of Libra. However, the Red Planet in conjunction with the Sun in Libra signifies bloody judgment. The bloody judgment corresponds to Dale's problem with the birth of Robin due to being Rh negative with Roy being Rh positive. Robin also had a congenital heart defect.

The Moon Sign was Gemini, for a tribe, or large, extended family. With their adopted children added, Roy and Dale had a large family that was like a tribe as the grandchildren were born. Furthermore, in Dale's Chart all of the planets except two are joined by groups of two plus a third, which signifies a family. Dale said she always wanted a large family.

Since the time of birth is not known, the Ascendant and Midheaven cannot be determined.

Scorpius

Three planets in Scorpius indicate a strong influence from this sign. This signifies a strong influence of Satan in Dale's life. He lured her off to elope when she was 14, and he filled her with ambition for worldly success in Hollywood. However, she chose to become a Christian and live the Christian life, which countered the influence of Satan. The Almighty God in Scorpius symbolizes the victory of the Cross.
Conclusion
Roy Rogers had a Castle in his Birth Chart, which is the sign of a king who rules over a domain of loyal subjects. To millions of children, who were his loyal fans, he was the King of Cowboys. He was born in Ohio, the region of Virgo and Naphtali, the symbol of peace. He went to California, the region of Gemini, the land of the double blessing, during the Great Depression. He found his destiny in Hollywood as a singing cowboy and became an icon for millions of children. His Ascendant was the Mediator in Capricornus, for a cowboy. He lived the role on an off the screen, even marrying his leading lady.

Roy had a powerful influence from Libra, his Sun Sign. He was a magnate, as symbolized by the Sun in Libra. He was a musician, as symbolized by the Savior Planet in Libra, and he was a business tycoon, as symbolized by the Almighty God in Libra. The Savior and Almighty God were in conjunction with Midheaven, which made him famous, and the whole combination in Libra made him King of Cowboys.

Roy's life also included hardship and suffering, as symbolized by the Plow that pointed to his Moon Sign. The Moon in Aries symbolized a wife. Roy's first wife divorced him, and his second wife died after childbirth, leaving Roy a widower with young children to raise. At 36, he was still an unbeliever when he married Dale Evans, who was on her fourth marriage. She was a carnal Christian, who violated the scripture to marry him. The signs of God's warning were all around. He proposed to her in the chutes on Trigger at a rodeo. The chutes were the sign of a strait, and a horse was the sign of a male phallic reversionist. Then she had to delay her answer because they had to ride out immediately and wait for the National Anthem. There was a blizzard at their wedding, and the preacher was two hours late and came on a horse himself. Then as Roy was headed downstairs for the ceremony, he had to go back to put out a fire that had started in a trash can upstairs.

Dale had a Mystic Rectangle Wagon in her Chart as the symbol of being a wife and Right Woman. The Wagon pointed to the Last Adam in Gemini, for the large adopted family which she carried around. Dale had three planets in Scorpius, which was a powerful sign of Satan. Dale did, however, make the only decision that could handle this problem. She believed in Jesus Christ at age 10, as symbolized by the Almighty God Planet in Scorpius, for the victory of the Cross as opposed to Satan as a world ruler. However, she didn't follow through, and by age 11, she had a nervous breakdown and had to spend the summer in bed to recuperate. Like Roy, she had the Sun Sign of Libra and was talented in singing and dancing and worked in the entertainment business. However, she also had the Red Planet in Libra at the point of a Plow. This was the sign of bloody judgment. She brought to Roy this curse. She was Rh negative and the only child she and Roy had died from Down Syndrome and a heart defect before the age of two. And two of their other adopted children died tragically.

Shortly after their marriage, Dale responded to the Lord's knocking at the door discipline and Rebounded. She led her family to Christ. Roy became a believer 74 days after the wedding. Roy and Dale were genuine in their faith and honestly tried to live the Christian life. They had Spiritual insight in the events around them. However, their advance was thwarted due to lack of Bible Doctrine. They attended the Church of the Valley Presbyterian near their home in Victorville regularly. Dale wrote books about her experiences in the Christian faith, and she set a Christian example. However, she was born with a strong influence from Satan and suffering from God. Her only hope was Jesus Christ. She and Roy were very compatible, and after they were married, they honestly tried to live the Christian life. However, they do not appear to have been Right Man and Right Woman. Their bone structure did not match. Their Moon Signs did not add up. Dale violated the scripture to get married, and God's signs were all around before, during, and after to indicate being outside His direct will and left in His permissive will.

Roy Rogers Birth Chart Planets

| | | |
| --- | --- | --- |
| Planet | Sign | Meaning |
| Sun | Libra | Magnate |
| Moon | Aries | Wife |
| Savior | Libra | Musician |
| Morning Star | Virgo | Son of Light, star |
| Red Planet | Taurus | Plagues |
| Almighty God | Libra | Tycoon |
| Ring Planet | Aries | Leader |
| Mediator | Capricornus | Cowboy |
| Redeemer | Cancer | Foster home |
| Last Adam | Gemini | Family |

Return

References
1. "Roy Rogers & Dale Evans Rogers," The Happy Trails Highway™, 2009. http://www.happytrailshighway.com/view/?pageID=100773
2. Dale Evans Rogers. In the Hands of the Potter, (Nashville: Thomas Nelson Publishers), 1994. http://www.ccel.us/potter.toc.html
3. Robert W. Phillips. Roy Rogers, (Jefferson, NC: McFarland), 1995.
4. "Swiss Yodel," Roy Rogers & The Sons Of The Pioneers, YouTube, 1934.
5. "Tumbling Tumbleweeds," Roy Rogers & The Sons Of The Pioneers, YouTube.
6. Chris Enss and Howard Kazanjian. The Cowboy and the Senorita: A Biography of Roy Rogers and Dale Evans, (Guilford, CT: TwoDot), 2005.
7. Kevin Eckstrom. "All not 'happy trails' on Dale Evans' walk of faith," The Baptist Standard, Dallas, TX, September 8, 1999. http://www.baptiststandard.com/1999/9_8/pages/evans.html
8. "Roy Rogers," Wikipedia Encyclopedia. http://en.wikipedia.org/wiki/Roy_Rogers


Released February 5, 2010 - Revised Nov. 5, 2015

Author: Larry Wood